Correctly staging your home for the holidays can attract homebuyers and result in a faster sale. Holiday real estate tends to be in short supply with more buyers than sellers. As a result, you could easily get multiple offers on your home this time of year.

Before you deck the halls and go all-out with your holiday decorations, check out these great staging tips to help sell your home.
Tip #1: Have Plenty of Light.
Since it gets dark earlier, make sure there is sufficient lighting outside and inside other than your holiday lights. Use table lamps to better illuminate the room to light up areas where it can seem darker.
Tip #2: Put Away Religious Decorations.
Religious decorations could deter a buyer from making an offer. Instead, decorate your home with seasonal decorations like garlands, mistletoe, poinsettias, a tree, and other general seasonal décor.
Tip #3: Don't Go Overboard with Decorations.
You want to keep the decorating clean and simple. Hang up lights on the house, put a wreath on the front door, and use some lanterns or other simple décor to put holiday touches outdoors. Do the same indoors, too, so the rooms don't seem overcrowded with holiday decorations.
Tip #4: Remove Personalization from the Rooms.
Take down family photos and pack those away. Hang up stockings that do not have names on them. Buyers want to picture themselves in your home, so the less personalization there is, the easier it is for them to do this.
Tip #5: Incorporate Scents of the Season.
Make sure you have plenty of gingerbread cookies on hand for open houses and viewings. Fresh cinnamon brooms and fresh-cut pine wreaths are other types of decorations that can liven up the home and inspire holiday scents.
Tip #6: Keep the Sidewalks and Driveway Clear of Snow and Ice.
You want to make it easy for potential buyers to get into and out of your home. You also want to prevent them from tracking snow and ice throughout the home too. It also helps to use doormats on both sides of exterior doors.
Tip #7: Match Holiday Decorations to the Décor of the Room.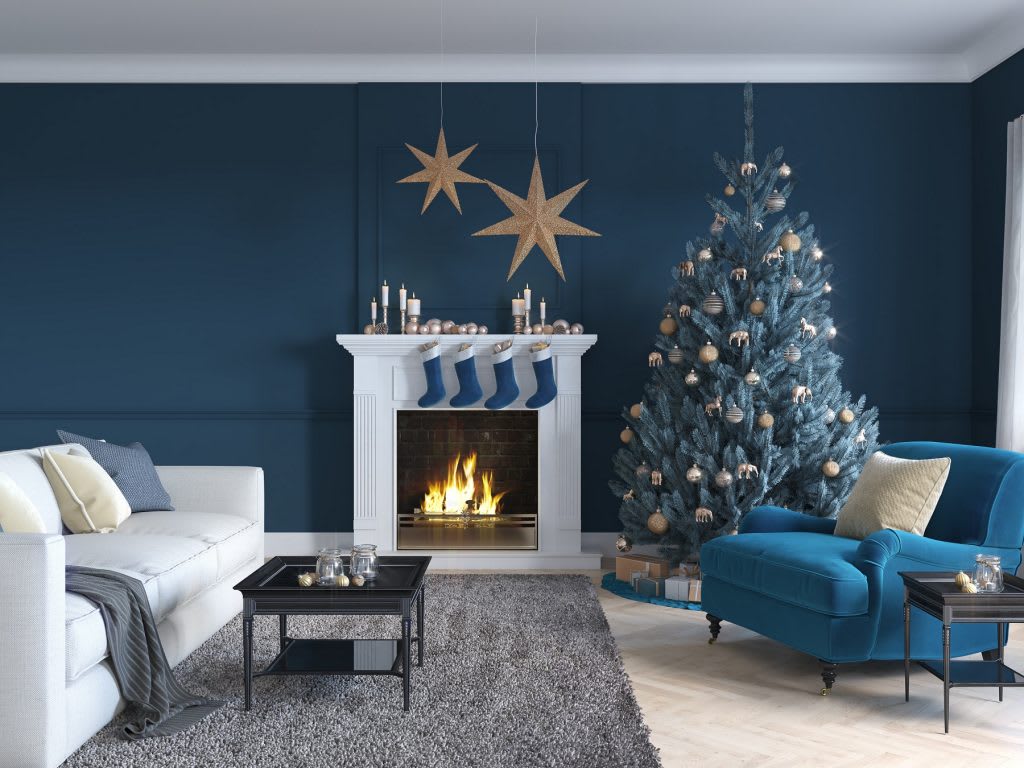 If you have rustic décor, go with vintage style decorations. If you have a trendy room in the latest interior colors, go with more modern decorations. Be careful to match colors so they fit naturally into the room.
Tip #8: Highlight Your Fireplace.
If you have a fireplace, make it the focal point of the room with the right holiday decorations. Place the tree near the fireplace and hang some lights over the mantle.
Tip #9: Keep Presents Under the Tree to a Minimum.
You don't want presents flowing out and into the room because it can look overly cluttered.
Tip #10: Keep Your Home Clean.
Clean the home daily to maintain its appearance and keep dirt and dust to a minimum.
Bonus Tip: Promptly Put Away Holiday Decorations.
If your home doesn't sell before the holidays are over, make sure you take down all decorations by New Year's Day.

For more great staging tips for the holidays, or to add your home to our real estate listings in Maryland, Northern Virginia and Washington DC, contact The Ferguson Group at (847) 903-1030 today!